Mission
The mission of the Brainerd HRA is to provide affordable housing and redevelopment opportunities to strengthen our neighborhoods. Working towards accomplishing that mission, we offer a variety of rehabilitation programs.
DEED Small Cities Development Program (SCDP) – CDBG
Through the Community Development Block Grant (CDBG) program, Congress appropriates money to states, which is then divided into the SCDP grants. The SCDP grants provide deferred loans—no payments or interest—for housing and commercial rehab.
The Brainerd HRA has been successful at securing funds from this program for the past several years.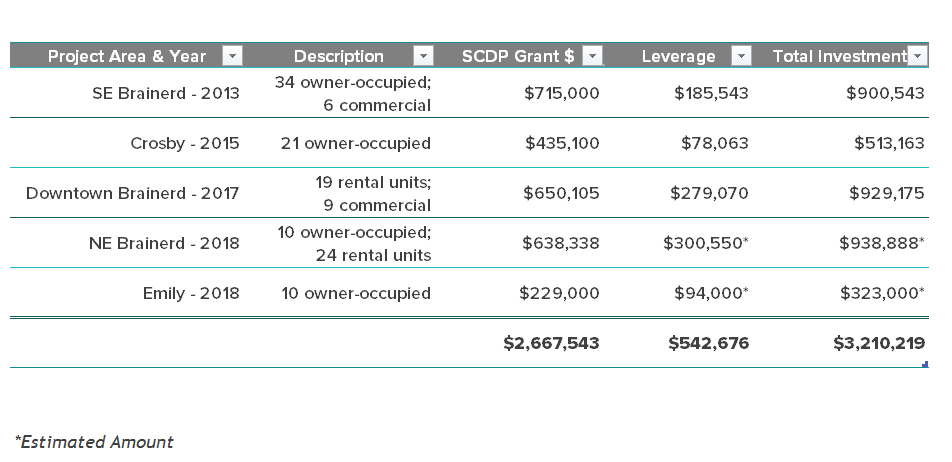 [/fusion_gallery]hra.org/wp-lib/wp-content/uploads/2020/09/Crossing-LAMF-before-300×225.jpg" image_id="" link="" linktarget="_self" alt="" /]
MHFA Rehabilitation Loan Program
The Brainerd HRA offers the Rehabilitation Loan Program, which assists low-income homeowners in financing basic home improvements that directly affect the safety, habitability, energy efficiency or accessibility of their homes.
The maximum loan amount is $27,000. Maximum loan term is 15 years for properties taxed as real property and 10 years for mobile/manufactured homes taxed as personal property located in a mobile home park.
All loans are forgiven if the borrower does not sell, transfer title, or ceases to occupy the property during the loan term.
Eligibility Requirements:
Used for Rehabilitation of
Single-family homes

Eligible one-unit dwelling in an eligible Planned Unit Development (PUD)

Townhomes

Condominium unit

Duplexes

Manufactured housing taxed as real or personal property
Eligible Home Improvements
Basic improvements to the livability, accessibility, energy efficiency and addressing lead paint hazards are eligible. Electrical wiring, furnace replacement, plumbing and septic repairs are just some of the possible repairs.
Applications
Interested in applying? Download an application here or the link below.
Emergency & Accessibility Loan Program
Deferred, 0% interest emergency and accessibility loans are available to low income single-family homeowners through participating lenders. These loans address emergency conditions in the home or essential accessibility improvements for a disabled household resident.
Loan Amount:
Maximum loan amount is $15,000.
Minimum loan amount is $1,000
Eligibility Requirements:
Owner occupies the property to be rehabilitated;

Owner does not have assets that exceed $25,000;

Owner meets the current year's income limits
Eligibility Improvements:
The proceeds of a loan shall be used to finance improvements which:
Are permanent and meet the minimum provisions contained in all applicable state, county, and municipal health, housing, building, fire prevention, and housing maintenance codes, or other public standards;

Are completed by building contractors that are licensed in the State of Minnesota;

Are used for repairs to a property damaged as a result of events beyond the Borrower's control or as necessitated by a system or structural failure such as:

Failure of the heating, electrical, ventilation, or plumbing/septic system;

Roof leaks that have led to significant secondary damage to the home's interior;

A structural failure of the foundation, walls, or roof of the home that could cause collapse;

An Environmental Intervention Blood Lead Level (EIBLL) of a household resident; or,

An accessibility need that prevents a disabled person from inhabiting the home.
Other Emergency Conditions that could cause the home to be or become uninhabitable will be considered by Minnesota Housing on a case-by-case basis.
Applications
Interested in applying? Download an application here or the link below.